TOLLING
Your partner for complex, high-quality formulations
Tailored to your product
Kwizda Agro's tolling is a mainstay of our company. Our clear goal here is this: we want to be a reliable partner for the formulation of complex and high-quality pesticides within our industry. Thanks to our innovative expertise and the desire to make continuous improvements, we develop and manufacture innovative and targeted formulations and products for our customers. The basis for this is our close partnership, which is on an equal footing. We engage with the individual requirements of our customers and work with them to develop the best product solution for their needs. See for yourself!
Core competence of tolling
Hand-in-hand
We provide the technology and experience, so we can work with you to develop the best solution for your needs.
Our services for you
Not only do we understand the needs of the international industry, we also work tirelessly to meet the demands placed on modern plant protection by users and the environment. Whatever the requirements, we offer just the right solution.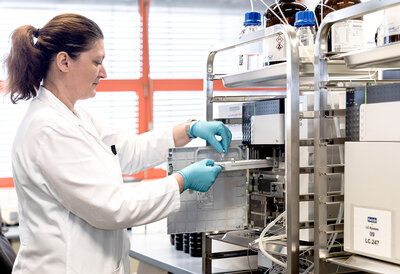 Quality and compliance
We are extremely aware of our responsibility – not only to our customers, but also to our employees and the environment. Compliance with the law, transparent transactions, and maintaining long-term partnerships are all parts of our corporate philosophy.
Learn more
Want to find out more? Contact us!
Manager Business Unit Tolling